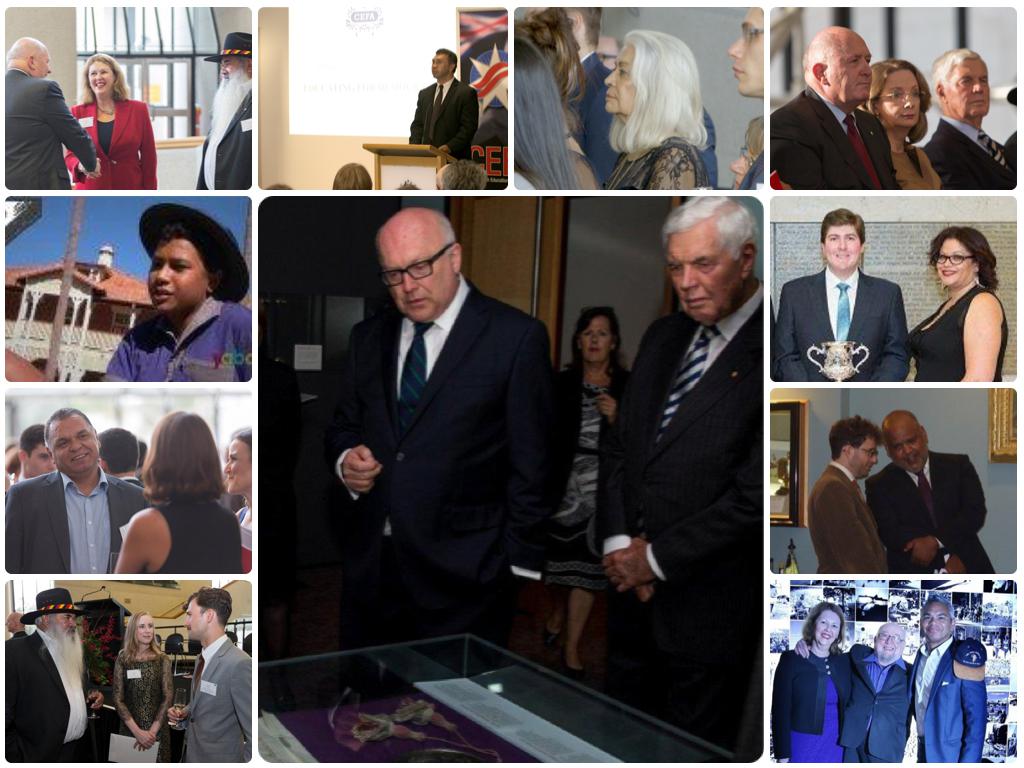 CEFA is committed to providing educational services to help educate all Australians about the proposed referendum and recognition of Aboriginal and Torres Strait Islander people in the Constitution.
CEFA has decided to provide some factual partisan education about the processes and the current push to hold a referendum. The Prime Minister Tony Abbott and the leader of the Opposition Bill Shorten are supporting a process towards a successful referendum. The Expert Panel on Constitutional Recognition of Indigenous Australians is due to present its final report by the end of June on the possible options for the proposed referendum.
In 2014, CEFA's chief executive, Kerry Jones, joined forces with the celebrated Australian author, Thomas Keneally, and John Paul Janke, from the Institute of Aboriginal and Torres Strait Islander Studies, at a National Archives of Australia  reception to build awareness for constitutional recognition of Aboriginal and Torres Strait Islander Australians.  To read a report in The Australian, click here.
On 10 February 2015, Governor-General Sir Peter Cosgrove presented the 2014 Governor-General's Prize  at the High Court of Australia.  In his keynote address he stated "As Governor-General I believe this is an important issue for us all and I to take the opportunity here tonight to reiterate that I want to encourage all Australians to become actively involved in the discussion and debate over Constitutional recognition and to exercise their democratic rights as citizens".
The 2014 Prize was sponsored by RECOGNISE, and invited university students to engage with a range of issues related to constitutional recognition of Aboriginal and Torres Strait Islander Australians.  Patrick Dodson co-chair of the Expert Panel on Constitutional Recognition of Aboriginal and Torres Strait Islander People, praised the Governor-General's Prize, saying that it is "a remarkable contribution to the complex, difficult and necessary debate about how we in this country come to recognise the first people in our Constitution."  To read the winning entries, click here..
CEFA is committed to celebrating all aspects of the Aboriginal and Torres Strait Islander peoples' contribution to Australia, and our initiatives address all sections of the Australian community.  Noel Pearson  has said of CEFA's proposed Australian Constitution Centre, "The new Australian Constitution Centre will have an important role to play in educating the public about the need for indigenous constitutional recognition. Australians should be aware of the triumphs of our constitutional heritage, as well as the injustices. Learning from this history, we can find ways to become a fairer and more inclusive nation."  This commitment is also found in CEFA's existing initiatives.  For instance, CEFA's teaching and learning resource website for schools, Yaba, contains a short film about Tyus Arndt, the sensational Torres Strait Islander boy who sings 'I Still Call Australia Home' on the iconic Qantas advertisement. 
CEFA's Schools Director Janet Doyle has extensive experience in developing educational resources for teachers implementing civics and citizenship. All CEFA school resources ensure students and teachers are aware of the facts, multiple perspectives and encourage discussion to be respectful and informed.  The Flip-Side of Australia Day is another resource available to school students and teachers through the Yaba resource. Ms Shelley Reys AO, and Amy McQuire, explain their views on Australia Day. This film explores from an Aboriginal and Torres Strait Islander perspective, two different attitudes to the celebration of this National holiday.
CEFA was commissioned by RECOGNISE to develop resources promoting awareness of constitutional recognition, and engaged Thomas Keneally to script a short film enabling an array of prominent Australians to affirm their support.  This film will soon be appearing here.
CEFA is now embarking on a two-year project, Educating About Recognition, that will prepare the Australian nation for the referendum that the Prime Minister  hopes to hold in 2017.  The project will be formally launched later this year.  If you would like to help CEFA in this important mission, click here..
The faces from left to right: His Excellency General the Honourable Sir Peter Cosgrove, Kerry Jones CEFA CEO, Patrick Dodson Indigenous Leader, Paul Shoe giving Welcome to Country at CEFA's 10 years of Projects in School celebration at National Archives of Australia, Professor Marcia Langton AM Foundation Chair in Australian Indigenous Studies, University of Melbourne, Sir Peter Cosgrove, The Honourable Justice Susan Keifel, Major General the Honourable Michael Jeffery, Tyrus Arndt, Senator the Hon George Brandis and Major General the Honourable Michael Jeffery viewing the Australian Constitution at National Archives Australia, Bowen Fox, Tanya Hosch, RECOGNISE's Joint Campaign Director, Sean Gordon CEO - Darkinjung Local Aboriginal Land Council, Damien Freeman Governor-General's Prize Director CEFA, Noel Pearson founder and Director of the Cape York Institute for Policy and Leadership, Patrick Dodson, Rosalind Acland, Henry Cornwell, Kerry Jones, Thomas Keneally, Paul Janke from the Australian Institute of Aboriginal and Torres Strait Islander Studies