Friday, 1st September 2017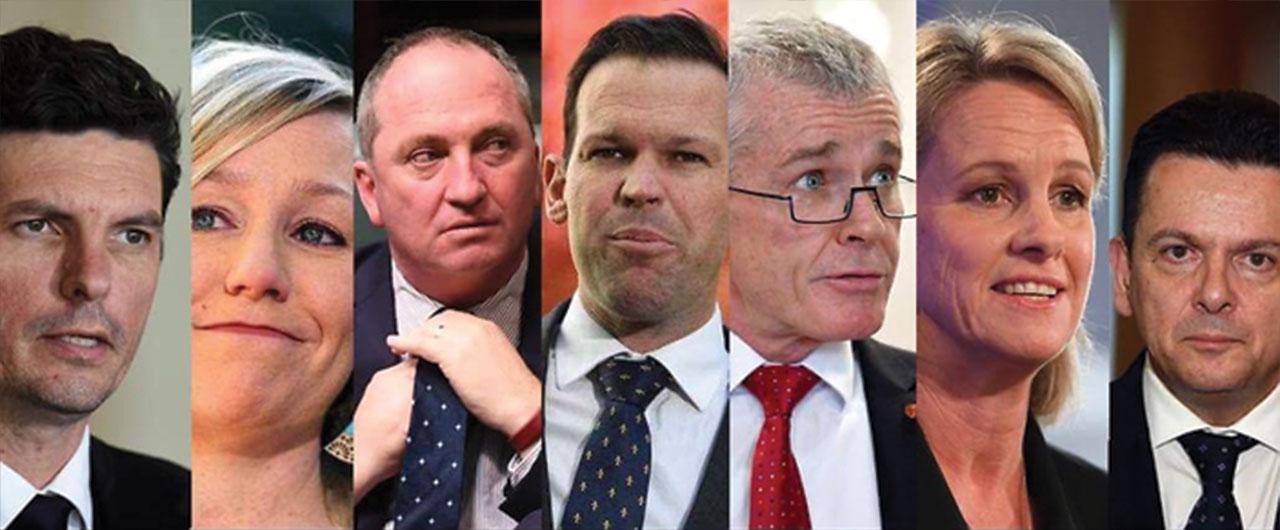 Last Thursday the first hearing for five of the members of Parliament found to have dual citizenship was heard by Chief Justice Susan Kiefel.
The Solicitor-General Stephen Donaghue is acting on behalf of the Commonwealth Government, while the four Senators and one MP have their own legal counsel. National Party Senator Matt Canavan was represented in the court by former Solicitor-General David Bennett QC, Brian Walters QC represented the two Greens, Scott Ludlam and Larissa Waters, Malcolm Roberts from One Nation was represented by Robert Newlinds SC and National's Barnaby Joyce was represented by Gerald Ng. It had been earlier reported that he was going to be represented by Bret Walker SC.
At the last-minute Tony Windsor joined the case as a contradictor for Barnaby Joyce and was represented by former Federal Court judge Ron Merkel QC. Ron Merkel will oppose the arguments of Gerald Ng (and possibly also the Solicitor-General).  
There are two more Senators, Fiona Nash from the Nationals and Nick Xenophon from the Xenophon Team, who still need to be formally referred to the High Court sitting as the Court of Disputed Returns and it is expected that they will join this case. And just yesterday Senator Derryn Hinch announced that he would like to send himself to the High Court too.
Did we find out anything new last week?
The Government will not dispute that Barnaby Joyce, Matt Canavan and Larissa Waters did not know that they were dual citizens and will argue that this means they should not be disqualified. The Solicitor-General will however act as a contradictor for Malcolm Roberts and possibly Scott Ludlam. Stephen Donaghue QC stated:
Mr Ludlam and Senator Roberts are different because, in our submission, in both of their cases it is reasonably clear that whatever the position be now, they must have known in the past that they were foreign citizens.
This means that at this stage Matt Canavan does not seem to have anyone arguing against him. Some constitutional experts have stated that this is a little concerning considering that his story has changed.
Initially Matt Canavan announced in a press conference that his Mum had signed him up to be an Italian citizen without his knowledge when he was 25. The story in the Court last week was that he has been an unwitting Italian citizen since he was two. The official filling out of forms to gain Italian citizenship when he was 25 was not mentioned in the Court. Some are wondering how the facts of this case will be discovered? Maybe he was an unwitting citizen of Italy since he was two, but if he was officially signed up as an Italian citizen when he was 25, could that be seen as an acknowledgement of his additional citizenship?
By asserting that Matt Canavan was an Italian citizen since the age of two, the Government may be attempting to test the limits of section 44i in the court. Does an action of acknowledgment have to occur (as seems to have happened when he was 25) or is being entitled to apply for foreign citizenship since he was two enough to be disqualified.
Senator Roberts story has changed a bit too. The dates of renunciation are still a little unclear. His qualification as a Senator may rely on whether an email sent to the British Home office is enough to meet the 'all reasonable steps' that need to be taken in renouncing foreign citizenship. It seems that he did not submit the official renunciation paperwork until some time after nominations closed for the 2016 election.
As such much of Roberts case will rest on the timing of his actions. In the past, the High Court has found that an election is a process, whereby writs are issued, nominations open and close, campaigning occurs, a vote is held, ballots are counted and writs are returned. An election is not just the one day that electors turn up to the ballot box. In Malcolm Roberts situation, the dates that he did certain actions to renounce his British citizenship will likely be examined.
Another point discussed in the hearing was the dates that the hearings should proceed. The Solicitor-General wanted the cases to be heard as soon as possible and suggested the sitting should occur for two days between 11-14 September. Malcolm Roberts counsel Robert Newlands did not believe he could make this time frame, while the other four that were represented in the Court last week agreed with this date.
However, there are two or (or maybe three) more Senators to be added to this case and Parliament does not sit again until 4 September. The earliest date that the additional Senators can be added to the case would have been only a week before the hearing.
Chief Justice Kiefel set a three day hearing for a later date, the 10, 11 and 12 of October. The High Court is currently undergoing renovations, which will be completed before these dates and the case being held in Canberra has some benefits. Chief Justice Kiefel stated:
Logistically, Canberra obviously has, with 16 counsel and 18 solicitors…. some advantages.
A smaller court in Melbourne, Brisbane or Sydney might have had trouble fitting all these lawyers.
Another interesting point in the hearing was a small discussion about how any disqualified Senators might be replaced. The Solicitor-General suggested that a special recount should take place, as occurred when former Senators Day and Culleton were disqualified. Chief Justice Kiefel stated:
But the other factual difference here is that some Senators and certainly a member of the House of Representatives have been there for some time.  We are not in a circumstance where we are close to an election having been held…. So, that needs to be given some thought, I would think.
The problem with replacing these potentially disqualified senators with a special recount is that several of those that would likely be next elected are also possibly not eligible to sit in the Parliament. For instance, the next in line if Malcolm Roberts is replaced is currently going through bankruptcy proceeding which is a disqualification under section 44iii. The next in line after Larissa Waters is currently employed by a university which is potentially a section 44iv problem. Whether being employed by a university is cause for disqualification might also need to be tested in the High Court, further holding up the replacement. The next in line after Fiona Nash may also has a section 44iv problem as she was recently appointed to Administrative Appeals Tribunal.
If all of these Senators are disqualified, might the court order new Senate elections in NSW, QLD, WA and SA? Could casual vacancies be initiated? Or might there be some other way of replacing the disqualified senators?
Derryn Hinch and the privileges of a foreign power
Earlier this week it was reported that Senator Derryn Hinch may be entitled to some rights and privileges of a subject or citizen of a foreign power. In the 1960's and 70's Hinch worked for the Sydney Morning Herald and was based in New York. He acquired a US social security number and paid a social security tax while he worked there. This tax now entitles him a pension. In August or September last year (well after the election process had ended) he wrote to the US Social Security Department and asked them to freeze his pension. He has stated while he does not believe he is in breach of section 44i, but he will seek legal advice and will ask the Senate to refer him to the High Court sitting as the Court of Disputed Returns. The Government is seeking the advice of the Solicitor-General.
Ministers and section 64 of the Constitution
Another problem that is being discussed by constitutional experts is the actions of Ministers who may be found to be disqualified. As stipulated in section 64 of the Constitution a Minister can only hold their position for three months without being an MP or a Senator.
Section 64 Ministers of State
….Ministers to sit in Parliament
After the first general election no Minister of State shall hold office for a longer period than three months unless he is or becomes a senator or a member of the House of Representatives.
If the three National Party Ministers are found to be disqualified, they will have been disqualified since the election on 2 July 2016. Any decisions that they made as Ministers three months after this (or perhaps three months after Parliament opened on 30 August 2016), could become the subject of further High Court challenges. Some decision that these Ministers have made have been contentious, including those relating to the approvals of the Adani mine in Queensland, actions taken on the Murray Darling Basin plan and the moving of the Australian Pesticides and Veterinary Medicines Authority (APVMA) from Canberra to Armidale.
More seriously though, Barnaby Joyce is also a member of the National Security Committee. What if decisions made by this body are also able to be challenged in the court. And how far back would these challenges be able to go? What about decisions he made as acting Prime Minister during the times that Prime Minister Turnbull was overseas?
We really are in uncharted constitutional territory.
Photo attributed to SBS